Best Liquid Luminizers, Best Highlighters, Best Illuminators
BellaSugarUK's Top Five Picks For Liquid Illuminators
As I keep discovering new liquid illuminators, I only get more and more addicted to them. These products aren't shimmery or chintzy, rather they create an illusion of healthy, dewy skin without the distraction of sparkles. The pink or white creams are iridescent, so they attract natural light and give you that special and inexplicable je ne se qua. They can be applied all over the face or just under the brow bone, down the centre of the nose, to the temples, chin and in the cupid's bow to draw attention to your lips. Below are five of my favourite products. Be sure and let me know what you think of them too, and leave a comment if you know of any other luminizers you think the rest of us would be interested in!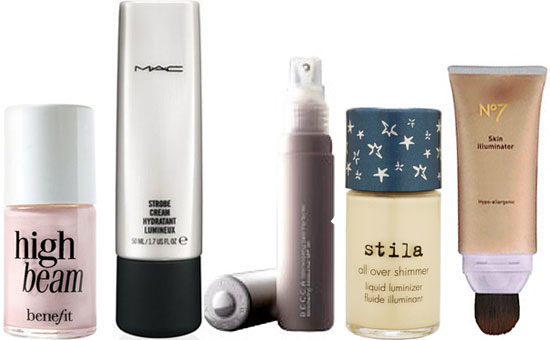 MAC Strobe Cream (£20.50) is a cult favourite among celebrity makeup artists and fashion show makeup artists. A little dollop of this pearly white cream goes a long way to create a gorgeous effect that makes you look like you're glowing from the inside out.
Becca Shimmering Skin Perfector in Pearl (£32.70) is my latest discovery. It's a thick, white cream that comes in a pump. All you do is apply it to your fingertips and then gently pat it into your skin over your makeup or blend it in with your foundation. Ever since I started wearing it, people have been telling me that I look fabulous and radiant, I swear! If they only knew that it was just my secret beauty weapon.
No 7 Skin Illuminator (£10.50) is available in two shades (peach for darker skin and pink for pale skin) and it comes with a handy built in applicator brush that helps prevent streaking. This product is the most affordable of the bunch and it creates a wonderful smooth and glowy effect on your skin.
For my last two liquid luminizer picks, just read more.
Benefit High Beam (£16.50) is the very first liquid illuminator that I ever used. It's packaged with a brush on the end of the applicator that is comparable to a brush on the end of nail varnish so that you can apply it in specific hard to reach areas like your cupid's bow and your collarbone. For more expansive coverage, simply tilt the bottle over and pour it onto your fingertips.
Stila All Over Shimmer Liquid Luminizer (£12.95) is a lightweight luminizer that has the same brush as High Beam and is available in two shades. It lasts longer than a powder since it dries into your skin and is a wonderful product for bride's looking for a special effect on their special day.